About us
Philosophy and Goals
The foundation of Little Generation Day Care
Little Generation Day Care was established to provide quality, loving care for children age 2 ½ through age 12. The staff recognizes the importance of balanced growth, so they provide opportunities for mental, physical and emotional growth through a variety of creative experiences. Children are encouraged to learn and explore at their own speed in areas that interest them.
The programs at Little Generation are designed to assist your child in developing morally, socially, emotionally, intellectually and physically. Daily activities will vary because we take into consideration the needs of each individual child and the importance of a variety of active and quiet times in a child's day. Each day the staff will plan a variety of activities appropriate to the age and level of development of the children who are enrolled. Activities/Materials that are available include art, water play, block building, music, videos, books, puzzles, games, and computers. Little Generation offers an exciting environment for children to express themselves, enjoy challenging activities and meet new friends.

Learn More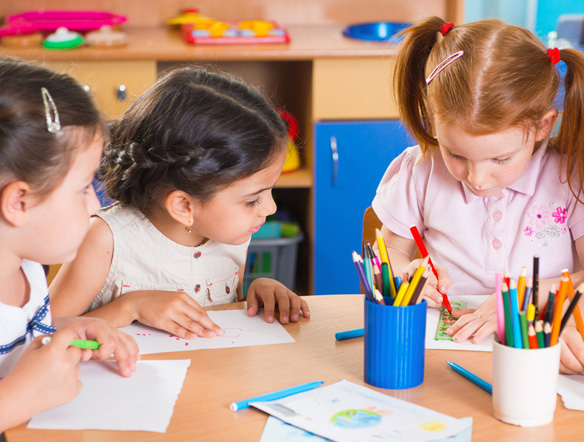 Welcoming place that
engages each child.
All of the programs at Little Generation are designed to support the whole child by using the child's interests and needs to create an environment in which children will choose to learn. The goals of all of our programs include fostering the innate desire of all children to learn, promoting academic achievement, and increasing the ability of students to make positive choices (including the choice to learn and explore). Our programming includes fundamentals about how children develop/learn, the learning environment, what children learn, the teacher's role, and the family's role:
How children develop/learn: We believe that it is important for students to have their basic needs met before they can achieve the desire to learn (Maslow). We also believe that all children have the innate desire to learn. It is important that our teachers understand the innate desire of all children to learn and understand how to promote learning in all stages of development.
The Learning Environment: The classroom environment is designed to create meaningful learning centers that will allow for individual and group learning. These centers are designed to be inviting and create an interest in learning. We believe that children learn on their own, from their peers and teachers, and from the environment around them.
What Children Learn: All weekly plans are aligned with Ohio's Early Learning and Development Standards (preschool) or Ohio's K-6 Common Core Standards (school age). The focus of our programs is learning to make positive choices and for students to acquire the desire to learn.
The Teacher's Role: Teachers are in place to foster students in the process of their learning, to model and promote the use of good choices (including the choice to learn), and to create learning experiences that are based on the individual children in the classroom. Teachers will continuously assess students through anecdotal notes, individual work, observation, and formal assessments. Once assessments are completed, teachers use this information to partner with families, plan for the individual students in their classroom, and create learning goals.
The Family's Role: We believe that it takes a community to raise a child. Because of this fundamental belief, we create a partnership between the staff, the child, and the family to accomplish the following: set goals, encourage interests, create an environment for mutual respect and create a means for children to discover the innate desire to learn. We believe that a child's first teacher is their parent/family and we are entrusted with the important task of providing a safe, healthy, and fun learning environment for every child. Because of this fundamental belief, communication with families is crucial. Families are always welcome and encouraged in the classrooms to participate and observe. They are given opportunities to come in and participate for special events and/or field trips in addition to volunteering in the classroom. Again, we believe that it takes a community to raise a child and because of this, we create a mutually respectful relationship between the staff, the child, and their family to accomplish goals.

Learn More